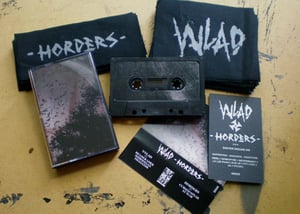 $

6.00
sisster ssound recordings #9.
split cassette featuring VVLAD (norway) playing his take on single string cigar box delta blues, drenched in black noise, with the distortion up to 11. the reverse features GIVE UP aural imprint HORDERS with more repetitive acoustic meandering washed in samples and layers of ambient noise.
limited to only 50 tapes, each cassette comes on black shells with full color jcard, and screen printed silver on black insert. 5 total tracks (three from VVLAD, two HORDERS) clocking in at just under 16 minutes. the first 20 copies come with screened canvas patches.
includes download code.
preview/stream at sissterssound.bandcamp.com
$6
--------
SOLD OUT